The Latest From Our Blog.
Acupuncture is an ace in the hole for most acute pain and symptomatic issues. Experience says – Don't wait or forget to come and get acupuncture. Here's why. The longer you wait for treatment, the harder it is to treat and the more treatments you need to get the help you seek. Here are the […]
News & Media Coverage.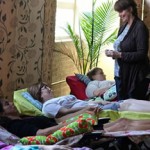 LSBA Business Spotlight: One World Acupuncture
(Leominster Champion 11/23/15)
A World of Relief (Leominster Champion 7/18/10)
Affordable, Accessible Acupuncture Business (The Landmark, 4/8/10)